Tune in Every Thursday Night at 8:00 PM CST for our FACEBOOK LIVE SALE! Follow us on Facebook for more details!
Login
Log in if you have an account
Dont have an account? Register
Make an Easy Mardi Gras Memory at Home!
27 Feb 2017
Ever since Three Kings Day in January, New Orleans has been in party mode, with decorations, parades, balls, and parties large and small, culminating tomorrow with Mardi Gras, or Fat Tuesday, the day before Ash Wednesday and the start of the Lenten season.
French Quarter revelers aside, most New Orleans citizens celebrate with family and friends, eating traditional foods and enjoying being together.
Why not surprise your family with your own version of an easy, last-minute Mardi Gras party at home one night this week?
Set the festive tone with simple table decorations. Your favorite trinket store probably has some green, gold, and purple beads, and cups and napkins in those traditional Mardi Gras colors. If you're really in luck, they might have some masques, too. If beads aren't available, you can always grab some good old crepe paper streamers. Or, you could use some construction paper, and cut out a few masques, or crowns, and set your youngsters to work with crayons and glitter sticks decorating them. That would probably be more fun, anyway.
For supper, serve a pot of gumbo or jambalaya, with French bread and a Mardi Gras salad. We'll give you a recipe for gumbo and the salad below, but you can also find box mixes in your grocery store, and our "expert" from New Orleans assures us that those are tasty and authentic. We trust her, because she's been a BFF since high school days, and the photos we've included are from parties she has hosted for her own family and friends.
Dessert can be a King cake, the creamy, cinnamony confection covered with purple, green and yellow sugar. Many bakeries and grocery stores offer them at this time of year. If that's not available in your area, bread pudding is another option. We're giving you an easy, yummy recipe that uses leftover donuts for that!
Find some New Orleans-style jazz on your iHeart Radio, and let the music and the aroma of the food greet your peeps as they get home, or get everyone in the kitchen to cook supper together to the background music.
If your kids are youngsters, let them use dress-up clothes to be kings and queens at a masquerade ball, or let them decorate the family pets and have a parade.
For the more mature members of the family, watch an episode or two of Treme after dinner.
With only a little effort, you will have created a lot of fun memories for your family. And who knows, you might have such a great time that you plan to go bigger and invite your whole crew of friends and neighbors next year!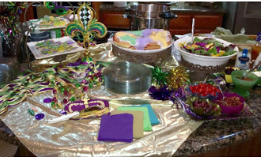 As they say in The Big Easy, "Laissez les bon temps roulez!" Let the good times roll!
Recipes:
There's not a thing wrong with adding some chicken and sausage to one of the boxed mixes in the store, but if you're feeling domestic and have time to cook the roux, here's a simple recipe for gumbo:
Chicken Andouille Gumbo
1 pound andouille sausage, cut in 1/4 slices
1 chicken, cut up and skinned or 8 - 12 chicken pieces
Salt
Pepper
Flour
1/2 cup vegetable oil
1/2 cup flour
1 onion, chopped
1/2 bell pepper, chopped
2 cloves of garlic, minced
1 cup chopped celery
1 (1 lb) can tomatoes, mashed
1 (6 oz) can tomato paste
4 cups of chicken broth, heated
1 lb fresh or frozen okra sliced
salt, pepper, cayenne to taste
1/2 cup chopped green onions
1/4 cup parsley
boiled rice
In a large pot over medium heat, lightly brown sausage and remove. Salt, pepper and flour chicken pieces. Heat oil and brown chicken in batches. Remove . In same large dutch oven type pan add flour to oil and stir constantly until roux is golden brown. Add onion, bell pepper, garlic and celery. Stir constantly until softened. Add tomatoes, tomato paste, chicken broth, okra, salt, pepper, cayenne, chicken and sausage. Bring to a boil, lower heat and simmer for about 1 1/2 hours, stirring occasionally. Skim off any grease. Add green onion and parsley. Cook for 5 minutes more. Taste for seasonings. Serve over rice (Serves 8-10)
It takes 20 to 30 minutes of stirring constantly to make a good roux...Keep watch on heat...do not burn....
You can use a spicy smoked pork sausage instead of andouille.
Mardi Gras Salad
green lettuce
spinach
mandarin oranges
sliced fresh mushrooms
sliced red onions
Dressing of your choice
Bread Pudding
Crazy easy bread pudding recipe at this website. And in the interest of easy, remember that any glazed donut will do.