Tune in Every Thursday Night at 8:00 PM CST for our FACEBOOK LIVE SALE! Follow us on Facebook for more details!
Login
Log in if you have an account
Dont have an account? Register
Employee Appreciation Day!
03 Mar 2017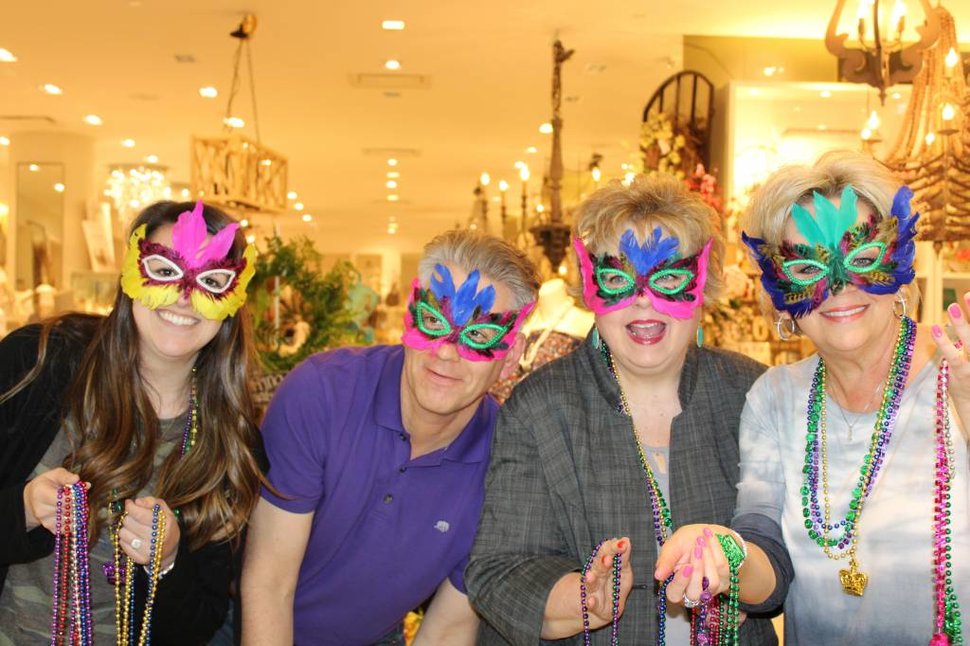 What prompts people to write such amazing reviews on Facebook? Why do Sales Reps feel compelled to complement our staff? Why do Business colleagues express such a warm feeling when walking in our doors for the first time? I have to tell ya'll…I know why….I know it's because we HAVE the warmest…friendliest staff in the UNIVERSE!
Our store philosophy at Amber Marie and Co. -
"To reach the people nobody is reaching….we have to do the things that nobody is doing."
For us…that starts with customer service….and customer service starts with an AMAZING staff!
I could brag on each and every employee for hours. I could tell you about how they go above and beyond for customers….how they love helping someone find that perfect gift or outfit….and how as employers Mom and I are moved by their attitudes, commitment to fresh ideas…and honestly – simply couldn't be more proud!!! But…instead of boasting and making other stores jealous that THEY don't have the amazing people we do….or even worse…make YOU jealous that you don't work here…I'll just tell you a little about each and every one of our staff so YOU can know and LOVE them as much as Mom and I do!
Katy - Store Manager
Katy walked into her interview with managerial experience, exciting ideas, and loads of confidence. We knew she would be a great fit for Amber Marie and Co. the moment she walked in the door! Like a fresh Spring Breeze, Katy was filled with ambition and a go-get-'em attitude that made our hearts smile! Katy is a Tulsa native and has a background in fashion design and merchandising. If you want to know what the latest trends are…THIS GIRL IS ON POINT! She is just as caring as she is beautiful and we are so happy that she is part of Amber Marie and Company.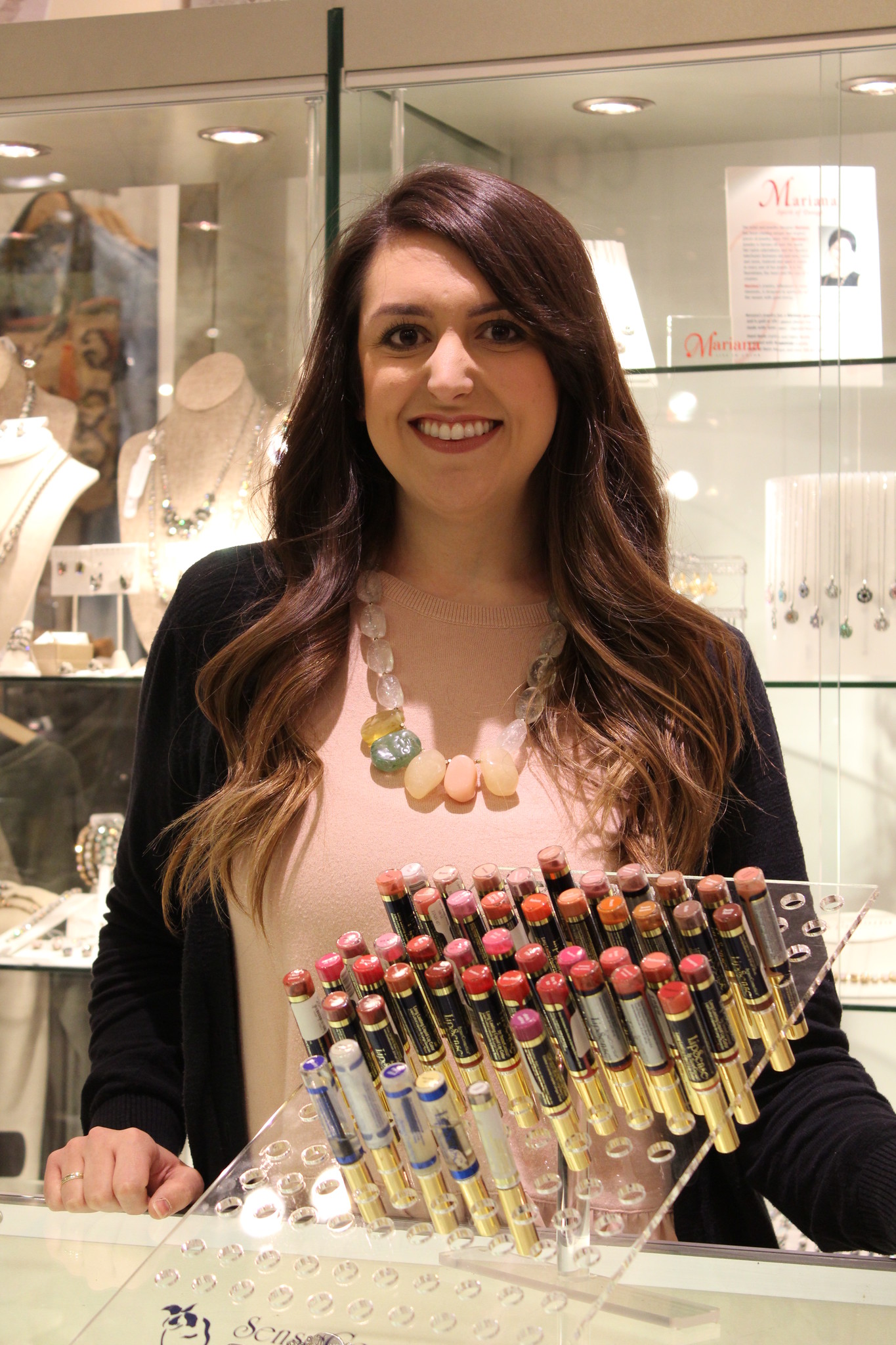 Katy's curent favorite item in the store…Lipsense. She is a true makeup junkie…and I swear she wears lipsense daily! The color that Katy looks simply amazing in – Samon Lipsense
Sharon- Assistant Manager
Sharon is the newest member of Amber Marie and Company. She has so much energy and enthusiasm! She is ALWAYS moving in the store….helping customers…working the floor merchandise! Sharon has extensive retail experience as well as managerial experience and we feel lucky to have her! Wowing us in her interview with her motivation and drive, Sharon has been nothing but a pleasure to work with thus far at Amber Marie and Company! Any time we are troubleshooting issues that may arise in the store, Sharon is quick to think on her feet and offer solutions! I LOVE that! She is a person with a "lets do this" attitude…sorta like our own "Ride or Die Assistant Manager"…and we LOVE her for it!
Sharon couldn't pick just one thing in the store to take her photo with. She said she LOVES the clothing we offer. One of her favorite lines in the clothing category is Zsupply. She likes Zsupply because its comfy, casual, and cute.
In this picture, Sharon is explaining how this dress can be worn in so many ways. Dressed up to casual…she said, "Every girl needs a 'go to' black dress. This would be mine. It's my style – simple and easy."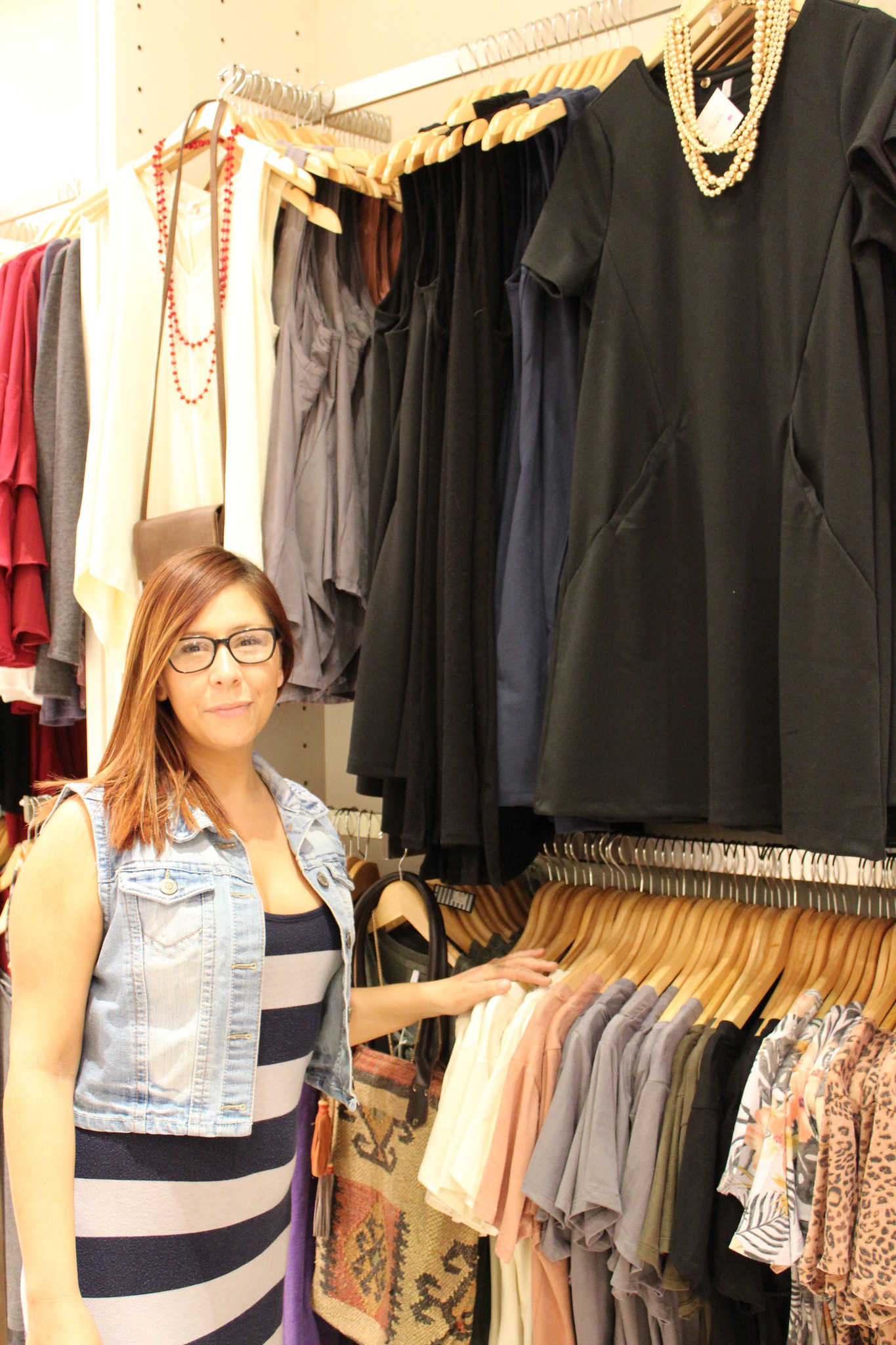 Jay – Our Design Expert
Jay is our in house design expert. He also spends a lot of his day moving displays and keeping the store looking fresh! Always quick to help any customer with a design dilemma, Jay loves consulting customers and helping them find the perfect décor for their home! When Mom and I sat down to talk with Jay, we were delighted to learn of his sense of humor and design experience. We knew he would be a perfect fit for Amber Marie and Company! I'm certain if you have been in and met Jay, you would agree he's quite a character…and we love him for it.
Jay's choice…Elsie….our cow. He loves to decorate her and adorn her for different seasons.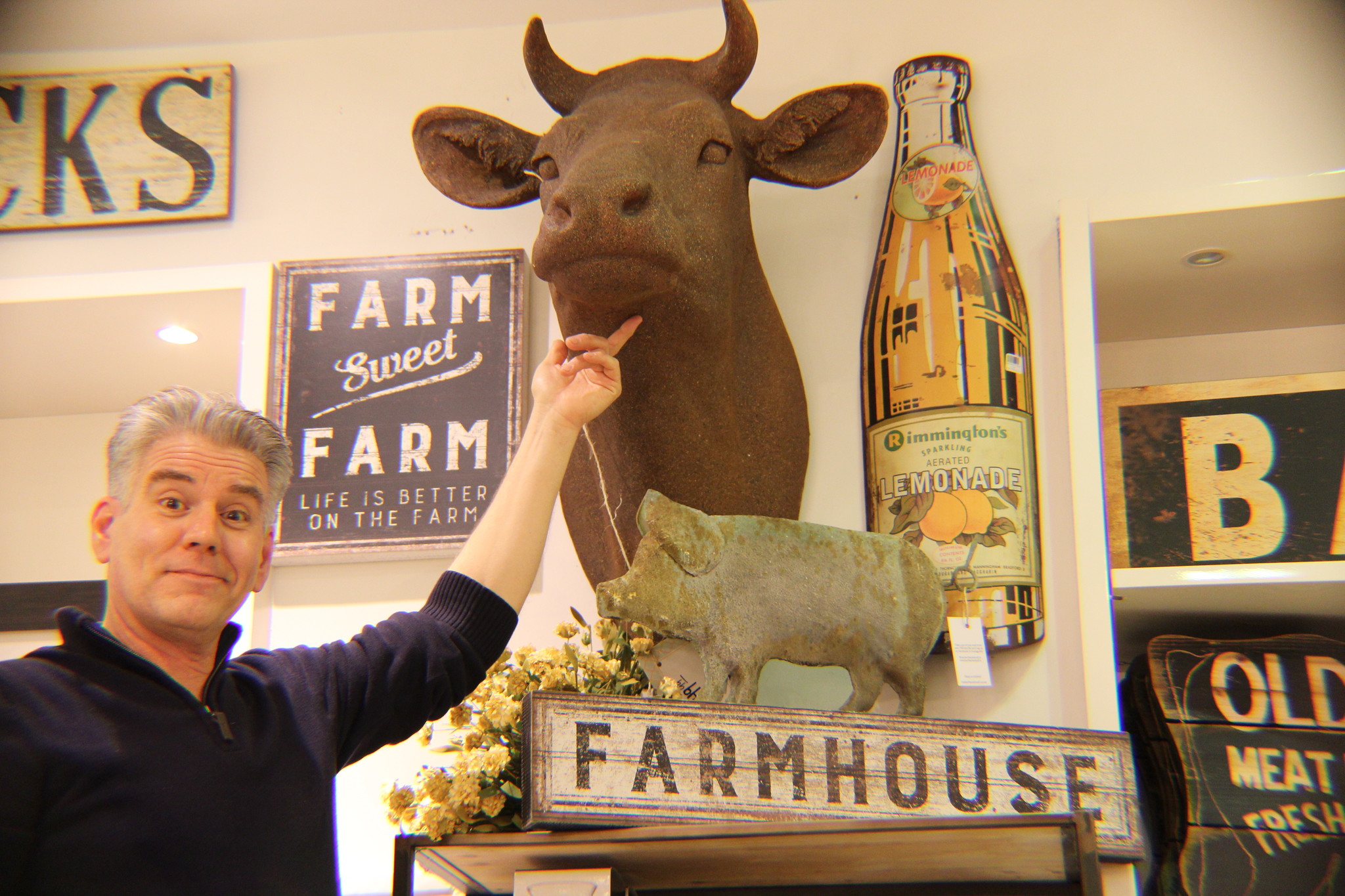 Kim – Our Mariana Expert
Kim was a longtime customer of Amber Marie and Company….and when she came in and applied for a position, we were extremely delighted! Kim is cool, funny, and a hard worker! She always has interesting ideas on products, marketing, and is a take charge employee. Kim sees projects and tasks that need to be completed and she jumps on it! She is kind, compassionate, and brings so much value to Amber Marie and Co. Kim also has a desire to write a book or two….so watch out world….we may have a famous author on our staff soon!
Kim chose Mariana because she is in LOVE with the collection…but she also noted that she loves the idea behind it. She loves the fact that its made in Israel…and Mariana's logo is "Live in Colour." Kim says she can identify with that idea as she believes in living life to its fullest…having a happy and fulfilling life. When she puts on a Mariana necklace or bracelet, she feels beautiful…and beautiful she is!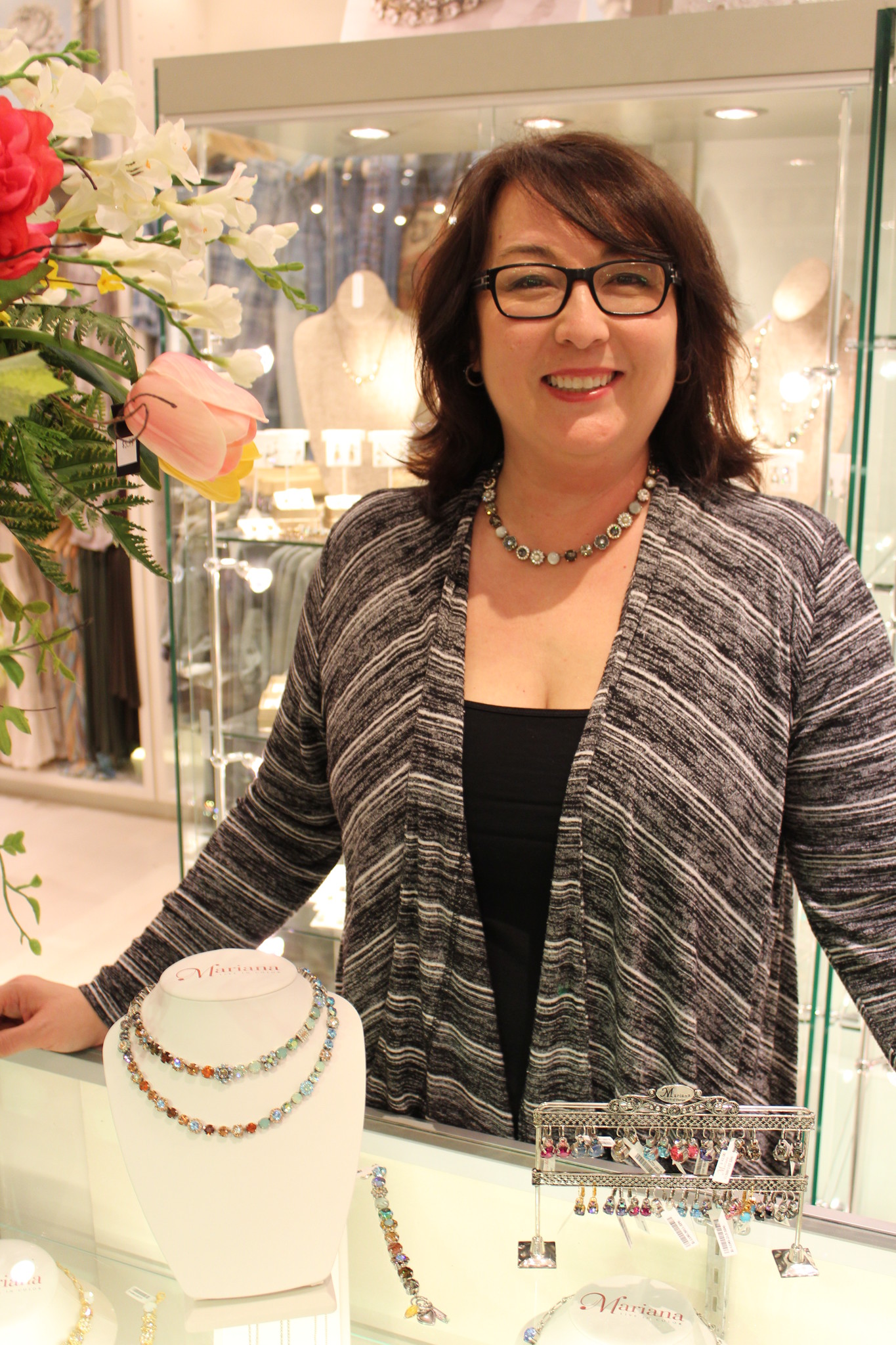 Tammy- The Closer
Tammy has been with Amber Marie and Company since the start of our adventure at Woodland Hills Mall. I call Tammy the closer because she knows how to close a sale. Ladies…if you send a young man into Amber Marie and Co for a gift for your birthday or Christmas…tell them to ask for Tammy. She will make certain you are taken care of! Tammy is hilarious! She always has funny stories to tell and keeps us laughing constantly! She loves helping people and meeting the variety of people that walk through our door. Tammy is a great addition to our team! She brings great ideas and helpful feedback consistently! We also seem to think that she's the World's Best Grandma!
Tammy chose Greenleaf Sachets for her in store favorite. She loves the fact that you can use them in so many different places. Put one in your bathroom, your closet, under your car seat, or entry way for a delightful refreshing scent in your home!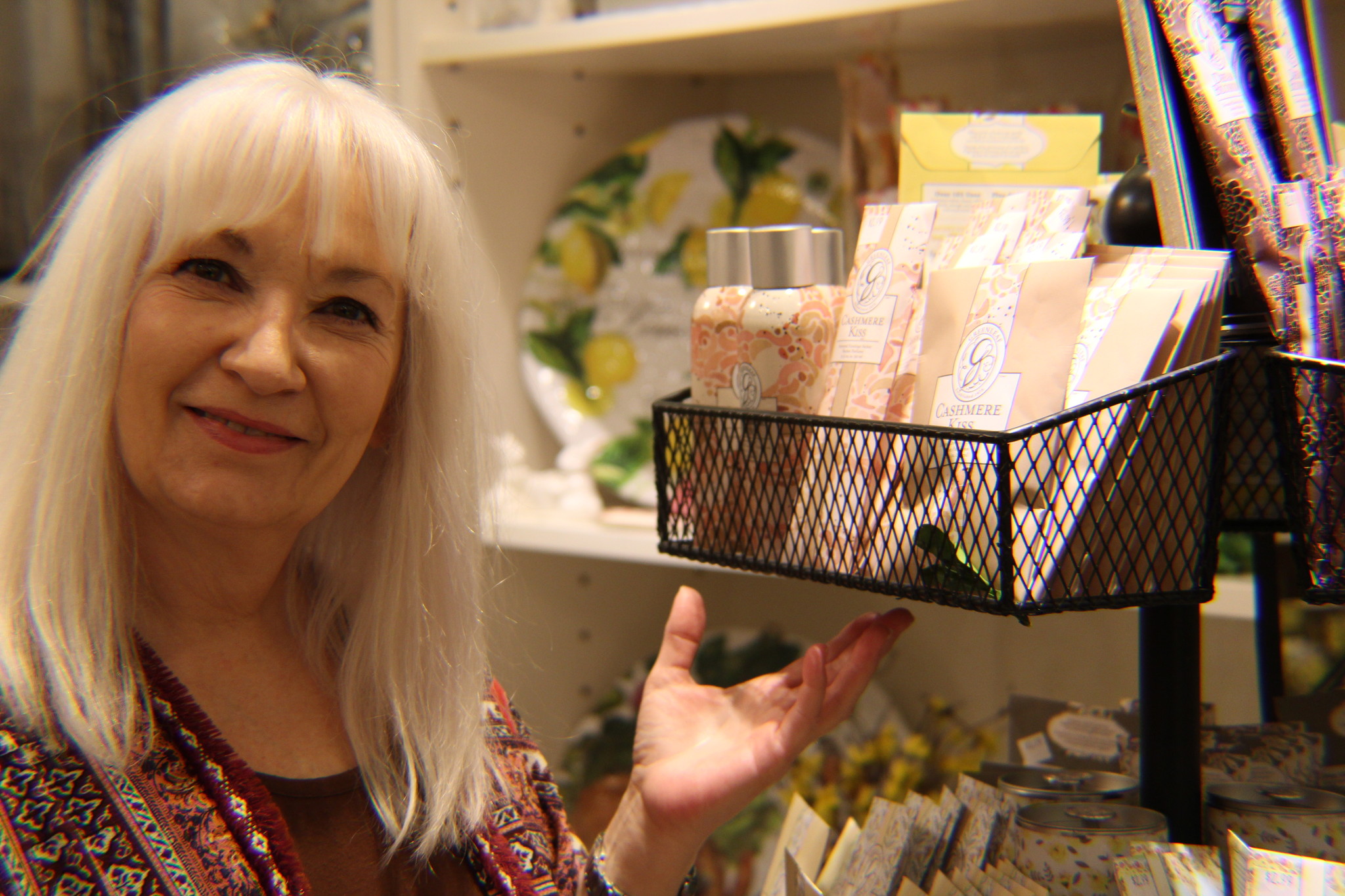 Kelly – Our Model
I call Kelly our model because it seems like I'm always taking photos of her for our Instagram or Facebook. She is always a good sport and ready for her picture to be taken! Kelly came to us as a long time customer of Amber Marie and Co. inquiring about joining our team! The moment she inquired we took her in the back for a short interview and were immediately impressed wither positive attitude and her love for décor and cute clothing! Kelly seems to know EVERYONE! Nearly daily, someone walks into the store and says "Hi! Kelly!" Kelly gets excited every time we bring in new merchandise…I think that may be her favorite part of her job…seeing "new stuff."
Kelly chose Beatrice Ball. She loves how beautiful it is and thinks its perfect for entertaining. Kelly also said that her favorite part of Beatrice Ball is that she can put it in the oven to keep it warm, or put it in the fridge to keep cool items cool.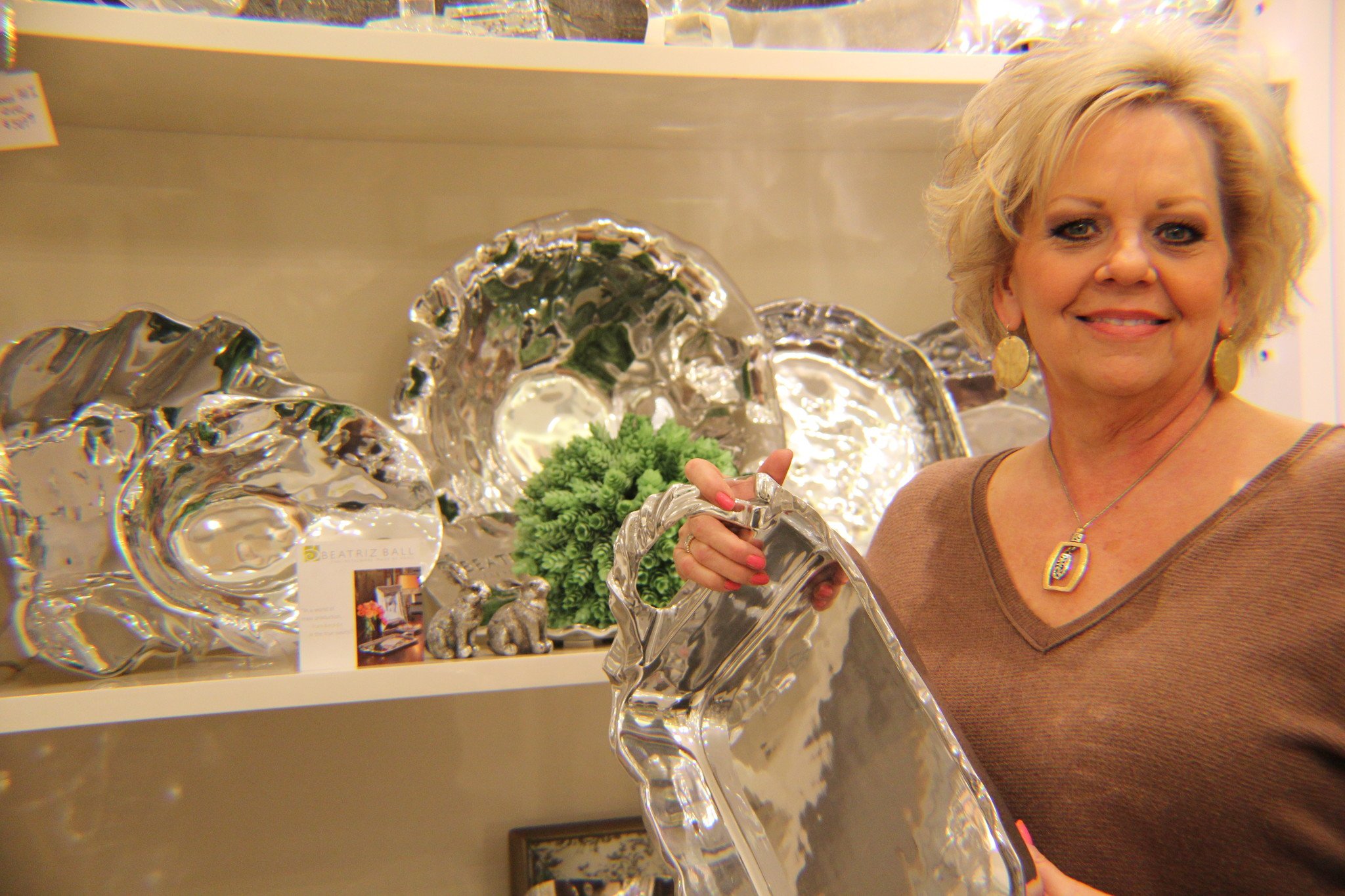 Jordan – Our fashionista
Jordan has style…and if you need an outfit for an event…she can pick it out with perfection! Jordan also has her finger on the pulse of fashion as she has recommended several lines to Amber Marie and Company that have taken off in sales! Jordan is fun to work with! We always have lots of laughs and she is great at working with customers! Customers often call and ask to talk to Jordan…or say "just ask Jordan, she knows what I want." We are thrilled to have a young lady that works hard through college…shows up for her job…and lives the collegiate life to the fullest! She is full of potential and has grown so much as an employee! Another gal that makes us all proud!
Jordan chose Fashionable bags. She actually turned us on to this company. Not only are the bags simple…and cute….but they have a great cause as well! Fashionable bags are manufactured by a company that's main mission is to support women who are victims of domestic abuse and/or sex slave survivors. These women find jobs to support their families and find their independence through working with Fashionable.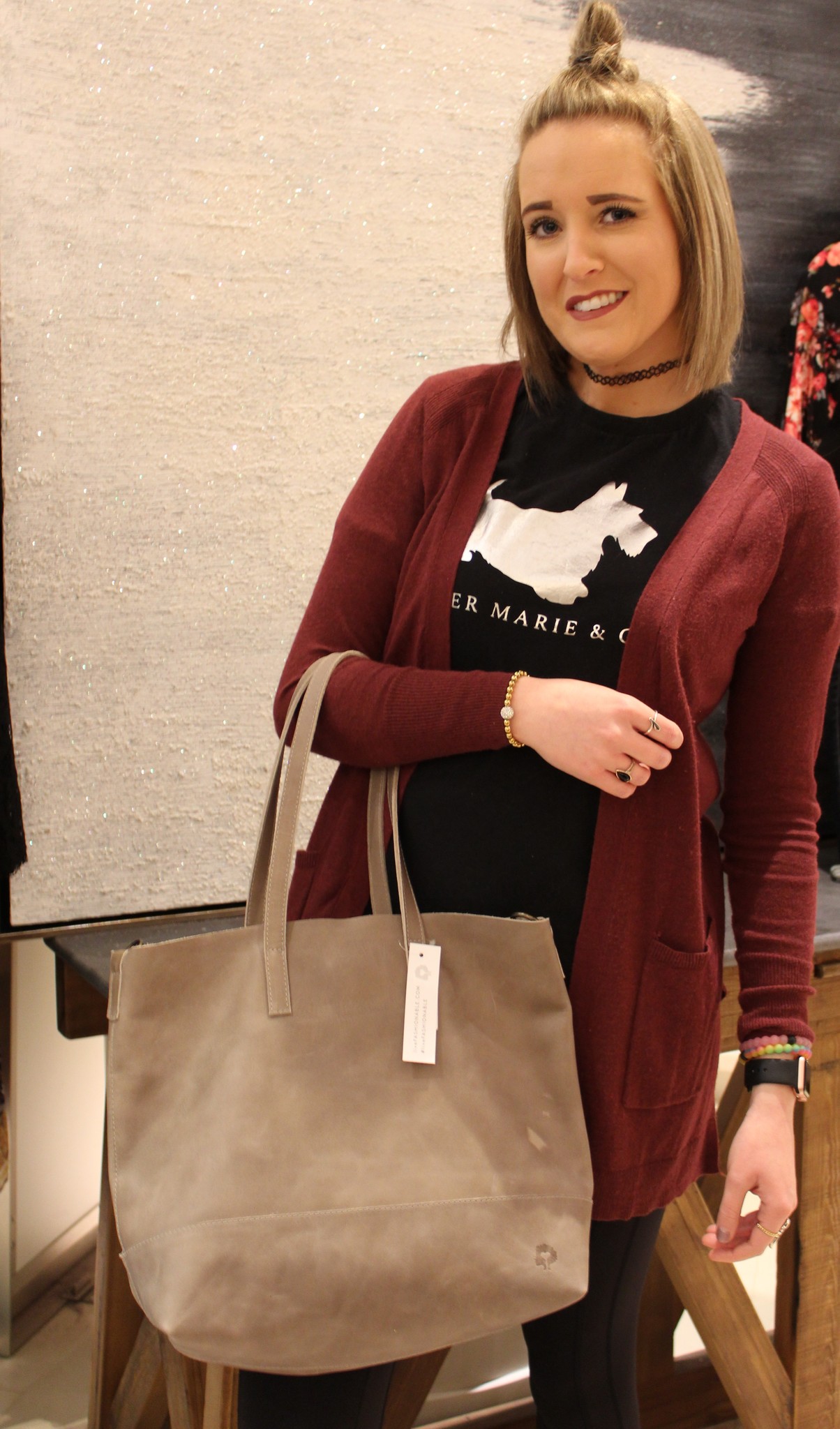 Skye- Our Facebook Guru
Skye is a creative and talented lady that has a happy happy soul! I love her laugh! We have some good times working in the back room trying to figure out website technical jargon together. We may stumble through some things…but we eventually figure it out! We feel so lucky to have Skye as she has helped us launch our website…target market through Facebook…and she is constantly working on content for posts! She also has an eye for design…and LOVES hair and makeup as well! She has fantastic ideas and helps us come up with marketing ideas and new ways of reaching customers. Skye writes our shop this look blog and does an amazing job putting together looks and outfits! She has a bright future in front of her and we are happy she is part of our amazing team!
Skye chose Wine-A-Rita…we just got a new shipment in and she was thinking about all the birthday parties, ladies nights out, and patio evenings she could have with Wine-A-Rita and her friends!