We are MOVING our Warehouse! Due to this move, Christmas items will resume shipping Feb 5th! All Christmas is 35% OFF Site Wide! If you have any questions please call! 918.576.6001
Login
Log in if you have an account
Dont have an account? Register
5 Ways Seasonal Decorating Reduces Stress and Anxiety
09 Jul 2021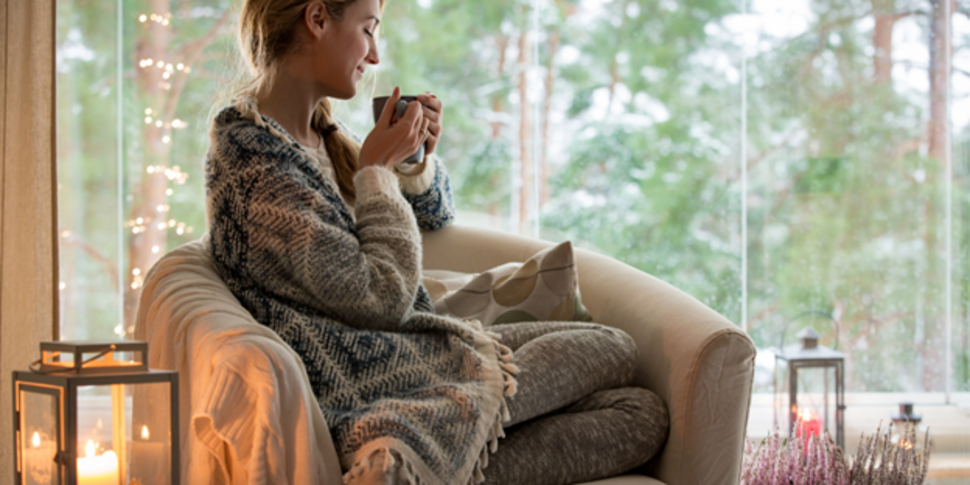 5 Ways Seasonal Decorating Reduces Stress and Anxiety
It's hard to think of anything more relaxing than a home decorated perfectly for the season. Your home should be a place of tranquility, a place free from negative feelings of stress and anxiety - a happy and healthy mind really does start at home.
So, how do you reduce stress by improving your atmosphere and home environment? And why does seasonal decorating your home affect your mind so much anyway? I'm going to reveal 5 fun decorating tips, along with the answers to all of your questions and more, right here in this article.
Let's dive in! 
Why Seasonal Decorating Reduces Stress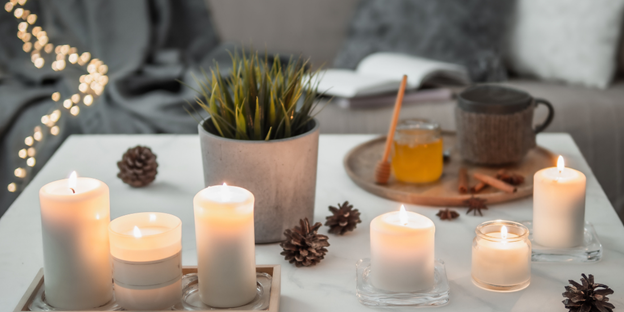 Your home is a reflection of who you are. Pretty cliche, I know, but it's true! You see, your physical environment plays a massive role in your mental well-being and overall mood. When you sit in an unkempt environment, it can further exacerbate feelings of stress -ultimately having a strain on your health and emotional well-being. 
Believe it or not, caring for your environment is a form of self-care. Your space is what sets the stage for your life -especially seasonal decorating. For many, seasonal decorating is like greeting an old friend; they're reminded of happy times and the people who lived through the fun memories with them. It's something that doesn't require a vision board, nor a Pinterest board; it's something that you may not even think you need, but believe me, you do.
There's not much in this world we human beings have control over, but we can control what our spaces do for our psyche. You don't need that picture-perfect house; you don't even need that designer furniture. It's possible to create your own little haven for yourself with just a few minor changes. Whether it's through the art of ancient Feng Shui, warming candles, detergents, or even some fresh smelling linen sprays - I'm going to help you gain some tangible benefits, with minimal effort with my 5 seasonal decorating tips.
If you're a person who suffers from anxiety, embrace these seasonal decorating ideas that are proven to ease stressors.
#1 Tis the Season for Color!
This decorating tip is a super easy-peasy way to blossom in seasonal decorating. Sure, it's not as evident as adding pumpkin decoration for Fall, but it's still highly effective! Add colors that represent each beautiful season.
You can go for a nubby white Fringe Blanket for when the weather is a bit frosty; Indigo Bud Vase on your coffee table when fireflies light up the summer evenings, a Dough Bowl Candle to create a magical spark on the fall nights, or welcome Spring in full bloom with beautiful Chickadees Dropping In Wall Art!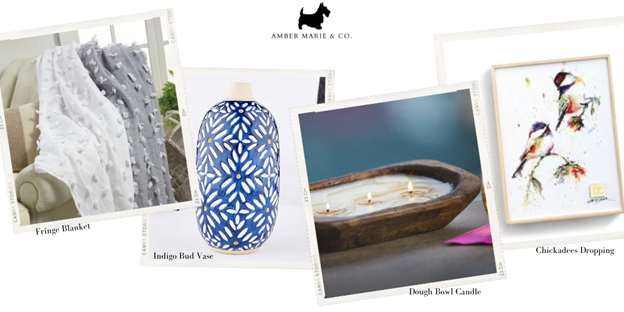 #2 Bring Nature Inside!
It's no secret that each season boasts its own distinct beauty. For me, I love displaying organic elements of nature inside my home. It makes me feel at peace, and is a very charming way to bring the outdoors in.
There is a certain magic that emanates from natural elements, like when you notice the first delicate green sprouts of Spring peeking through last year's fallen leaves. Imagine something as simple and beautiful as Dried Natural Palm Leaf Artichoke bundled up on your mantelpiece in the Fall, or Pineapple Grass Balls in Pots over your kitchen counter during the Summertime that infuses your home with a natural feel - intriguing you by their beauty each time you pass by.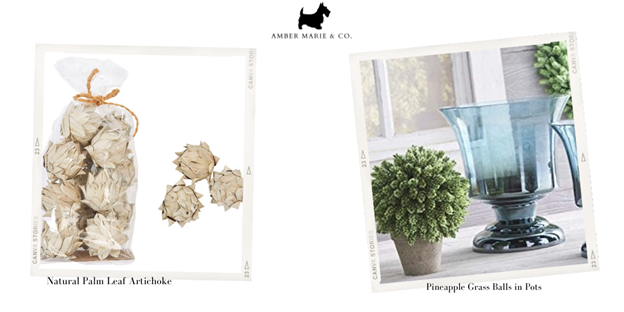 #3 Seasonal Decorating Pillows
For me, there is nothing better than nestling a pillow into my decor to give it that new and fresh look. I find myself buying seasonal pillows in colors and motifs of the season, so when it changes out, I still receive the same luxurious feel without all hassle!
See below for some seasonal decorating pillow inspiration! What better way to reduce stress than cuddling up with some cozy pillows on a late summer night?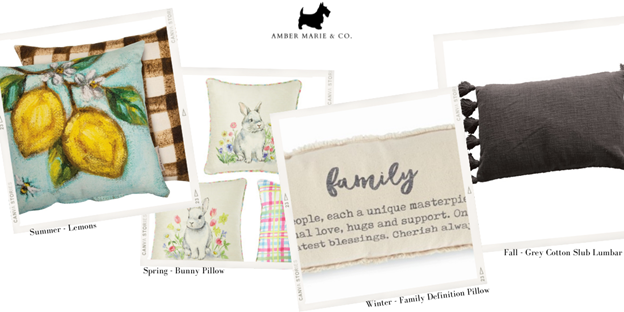 #4 Smell Each Season with Candles, Linen Sprays, and Laundry Detergent!
Fall smells like cinnamon apples, warm apple cider, fresh-baked loaves of bread, and pies cooling on the countertop after coming out of the oven. Summer is freshly cut grass, the sea, and crisp linen blowing in the breeze. Then there's Spring, where your garden comes to life with the intoxicating scent of citrus blossoms and pink jasmine. And Winter? Well, we all know that it revolves around cinnamon, chocolate, ginger, and of course, roasting wood.
For me, every smell reminds me of a beautiful memory of each season. You could even call it a guilty pleasure, and a great technique to reduce stress levels!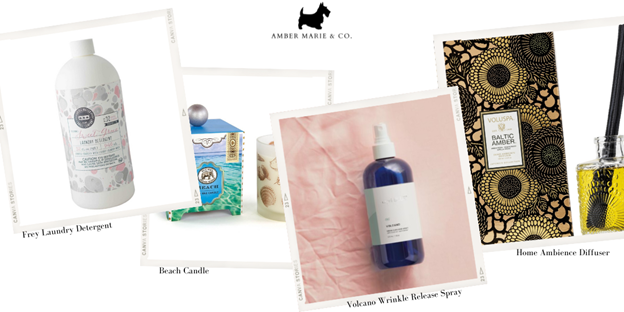 #5 Add Seasonal Elements
Last but not least, we have one of the easiest ways to show your love of the season in your home. It really is wild how simple a beautifully natural woven seagrass basket full of shells, or a small linden lantern filled with pumpkins is able to make you feel happy, and reduce stress. It's a fun way to bask in seasonal decorating, and keep smiles all around.
Watermelon Fresh Wired Edge- Multi
This green striped watermelon ribbon is perfect for any Summer themed project. Bring the color and texture of this fun ribbon to gift wrapping, wreaths, baskets, and more! The wired edges help create bows that hold their shape.
Woody Spicy Ambery: The rich scent of smoky woods and bourbon vanilla blended perfectly with a hint of pepper and clove buds grounded with warm amber.
Oval Natural Woven Seagrass Baskets
The seagrass basket adds rustic charm to any home. Perfect to fill those spaces in your kitchen and conservatory, it's hand-woven from natural seagrass, and each piece is unique with the use of natural materials.
Constructed in a warm antique brass, this lantern has classic lines and a simple design. With large, clear glass panes, the candlelight brightens the evening.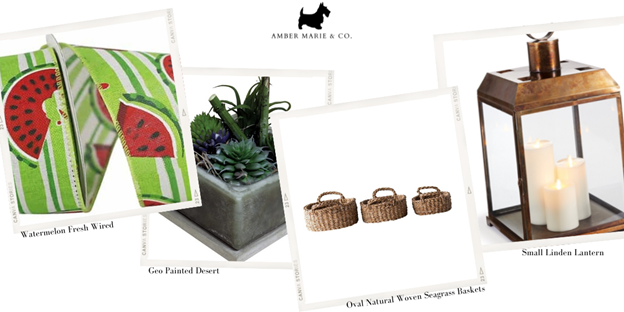 Nothing is prettier than a little bit of the season mixed with authenticity and imagination! The key is to be tasteful and edited. Remember, a little bit goes a long, long way when it comes to feeling peace at home.